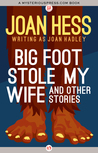 Big Foot Stole My Wife and Other Stories
by
Joan Hess
My rating:
3 of 5 stars
Big Foot Stole My Wife and Other Stories
by Joan Hess is a collection of mostly rather dark mysteries. Honestly, I didn't like most of them. I did enjoy the 2 Claire Malloy mysteries and the 2 Arly Hanks mysteries, though.
Many of the mysteries had a slow pace. And in some of them, the characters weren't even likable. If not for the Claire Malloy mysteries and Arly Hanks mysteries, I would have given the book a 2 out of 5 stars. Generally speaking, Joan Hess's writing is good, but these stories just didn't click for me. This collection was first published in 2003. This is a re-release issued in July of 2016.
I give this book 3 out of 5 stars. If you describe a collection of short stories as hit and miss, most of these were misses for me. If you like your short stories a little slow, dark, and weird, then check this collection out.
Disclaimer: I received a copy of this book in exchange for my honest opinion.
View all my reviews